Actress
My acting journey began the day I landed a job as an Assistant Front of House Manager at the University Theatre in Newcastle. I stood at the back of the auditorium that night (and every night from then on) watching the show and thinking 'That's what I want to do!'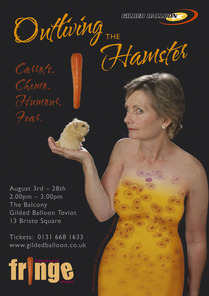 I auditioned for a place at the Easting 15 Acting School but couldn't get a grant so I lived in a caravan on the school grounds and painted the building inside and out instead of paying fees! When I graduated my first job was in a small touring company. Next I went to the Victoria Theatre, Stoke-on-Trent; it was there I learned my trade. We would be rehearsing one play in the day while performing another at night and 'bringing back' a third for the following week. I went on to work in theatres throughout the country, from the West Yorkshire Playhouse in Leeds to Harrogate, Windsor, Farnham, Basingstoke and beyond! My first TV appearance was in a series called 'Angels', the forerunner of 'Casualty' and 'Holby City'. After a break when my children were small, I returned to the business by doing a post-grad year at the Guildford Conservatoire. Since then I've worked with Alan Ayckbourn, lived in a windmill in the mountains of Majorca making an arthouse feature film, and appeared in countless short films, promotional films and photo shoots. I wrote and performed in my own play at the Edinburgh Festival and have been a regular corporate and medical role player. More recently I was one of the Lloyds Bank 'faces' online and I appeared in a film which formed part of a new opera by the novelist David Mitchell for English National Opera that premiered at the Barbican.
I am looking forward to working into my seventies, eighties and nineties!
You can see .... my showreel on http://www.youtube.com/watch?v=zu_1i25qvf0
and my cv below ...
Agent: F & I Associates 0203 7951101

Height: 5'5" Hair: Fair Spotlight Page No: 1886
Eyes: Green Born: London Equity Member No: 87522
Playing Age: 60 - 75 Vocal: Mezzo Soprano
Trained: East 15 Acting School, Guildford Acting School, BA Hons English - Durham University
RECENTLY
The Sunken Garden New Opera Film (Portia Jacquemain) Directed by Michel van der Aa for English National Opera
Mesocafe Feature Film (Sheila Adams) Directed by Ja'far Abd al-Hamid
Ecology Arts Council and Film Council art-house feature (Mother) directed by Sarah Turner
Public Awareness Film Mediazoo (Scam victim) cirected by Hannah Price
Corporate Training Film Xube Ltd (4 roles) directed by Richard Woolfenden
Workshop/Performance of New Plays Farnham Maltings Theatre
Outliving The Hamster Guilded Balloon, Edinburgh Festival (Nina) directed by Ellie Jones
Snake in the Grass Stephen Joseph Theatre tour (understudy all roles) directed by Alan Ayckbourn
FILM
The Third Quarter Medium Rare Films (Joyce) directed by Jonny Dry
Nice to Meet You Distilled Films (CID detective) directed by Will Garthwaite
The Date Seeing the Sun Films (Sole character) directed by Lisa Howells
How To Films Video Jug (Mother) directed by Tobias Tobbell
See You at the Altar Milkshake Films (Mandy) directed by Victoria Thomas
Woman in the Woods Octopus Films (Mary) directed by Nicola Paglia
End of the World Waveform Films (Caroline) directed by James Appleton
Johnson & Johnson Promo Film Low Fat Films (Patient) directed by Ben Hilton
Containment Eldritch Films (Sue) directed by Anthony Tattershall
Abbey National commercial Crocodile Casting
Boots Plc Promo Film Gutsy Ltd (Sarah)
Fish4 Insurance national stills campaign
A shortage of Angels Onion Shed Productions feature (Harriet) directed by Monica Lissak
THEATRE
Jane Eyre adapted by Fay Weldon West Yorkshire Playhouse (Charlotte Bronte) directed by Helena Kaut-Howson
Having a Ball Horseshoe Theatre Basingstoke (Surgeon) directed by Kit Thacker
One for the Road Redgrave Theatre Farnham (Jane) directed by Ellis Jones
The Adventures of Alice Redgrave Theatre Farnham directed by Stephen Barry
Not Now Darling Redgrave Theatre Farnham (Sue) directed by Stephen Barry
Good Harrogate Thatre (Anne) directed by Mark Piper
Cider with Rosie Harrogate Theatre (Rosie) directed by Nick Darke
Murder on the Nile Theatre Royal Windsor (Chrstina) directed by Joan Filey
The Merchant of Venice The Victoria Theatre Stoke-on-Trent (Portia) directed by Peter Cheeseman
Also ten other productions at the Victoria Theatre
TELEVISION
Casualty BBC (Mother) directed by Antonia Bird
Murphy's Mob Central (PE Teacher) directed by Mike Holgate
Dodger, Bonzo and the Rest Central (Teacher) directed by Derek Martinus
The Home Front Central (Health Visitor) directed by Roy Battersby
Rose Thames (Janie) directed by Derek Banham
The Gentle Touch LWT (Police Officer) directed by John Davies
Angels BBC (Staff Nurse) directed by Julia Smith
OTHER
Extensive corporate and medical roleplay
Co-author of 3 musical documentaries for the Victoria Theatre Stoke-on-Trent
Author of short stories, children's stories, a novel, video voice-overs and the Seeds of Hope Activity Pack for children and young people
Founder of a national registered charity
Counsellor and Workshop Leader
Skills: Tennis, skiing, swimming, clean driving licence
Accents: RP (native); heightened RP; London; Liverpool; West country: Yorkshire; standard American