Seeds of Hope Bereavement & Loss
Activity Book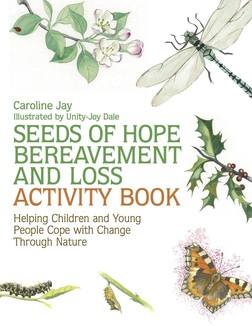 Helping Children and Young People
Cope with Change Through Nature
by Caroline Jay
illustrated by Unity-Joy Dale
ISBN 9781849055468 pb £14.99
The Seeds of Hope Bereavement & Loss Activity Book aims to help children and young people manage feelings of loss and change of all kinds through a wide variety of activities all based in Nature. It is written from personal experience. When our baby, Laura, died and her brother and sister began asking questions about her, I started to look for ways to help me talk to them about death and loss. Nature seemed a good place to start. So much in Nature echoes the changes that happen in life. None of us can live life without change and all change means loss and new beginnings - a pattern repeated over and over in Nature's cycles of life. The activities and illustrations in the book encourage children to get outside and get exploring - and in doing so, to gain an understanding of how loss and change are a natural part of living.

Children who might find it helpful may have divorced parents, may be in foster care of have been adopted, may have moved home or school, may have a pet that's died or experienced the death of a relative. Information and suggestions for parents and teachers is included.
The book is ideal for parents and carers, teachers, therapists and counsellors to use with children aged 5+ who have suffered any type of loss or are dealing with change or who are bereaved.
"...death for all of us is devastating but for a child it will create a wealth of emotions that are incomprehensible. For each it is unique. The Seeds of Hope Bereavement & Loss Activity Book gives a wide variety of ideas to help the child explore, recognise and accept ther feelings in a concrete, thoughtful and healing way. I would highly recommend it....." Yvonne Cameron, teacher
"... a lifetime's experience in this area has taught me that children benefit tremendously from being helped to talk openly about these issues. I highly recommend Caroline Jay and Unity-Joy Dale's wonderful Seeds of Hope Bereavement & Loss Activity Book...." Jenni Thomas OBE, bereavement counsellor
What Does Dead Mean?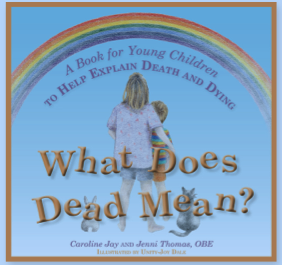 A Book for Young Children to Help Explain Death and Dying
by Caroline Jay and Jenni Thomas OBE
Illustrated by Unity-Joy Dale
ISBN 9781849053556 pb £9.99
'At last a book that really answers the questions or fears a child may have about death. I would recommend this to any parent who, like me, wonders how they will support their child through the death of a loved family member, friend, or even pet. I will have it waiting on our shelf and hope that schools will snap it up as a fantastic 'information' book for teachers to use and children to access in the school library.' Gabby Hails-Smith, parent
'Children's questions are a window to their souls and a mirror to their inner thoughts and feelings. This important book allows caring adults to acknowledge and explore these questions with children in a sensitive and informed way. I highly recommend What Does Dead Mean? for anyone who aspires to create a meaningful dialogue with children about death.' Linda Goldman, author of 'Children Also Grieve' and 'Life and Loss'
What Does Dead Mean? is a beautifully illustrated book that guides children gently through 17 of the 'big' questions they often ask about death and dying.
Questions such as 'Is being dead like sleeping?', 'Why do people have to die?' and 'Where do dead people go?' are answered simply, truthfully and clearly to help adults explain to children what happens when someone dies. Prompts encourage children to explore the concepts by talking about, drawing or painting what they think or feel about the questions and answers.
Suitable for children aged 4+, this is an ideal book for parents and carers to read with their children, as well as teachers, therapists and counsellors working with young children.
Both books are available from ....
Jessica Kingsley Publishers

www.jkp.com