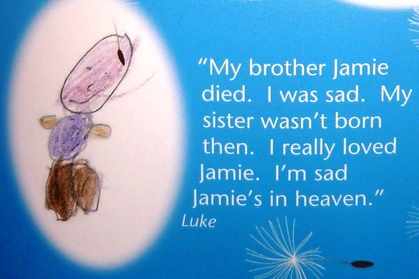 I've worked for many years in the field of loss and grief. These are some of the experiences that continue to feed my passion for the work I do ...
Bereavement Work
For 12 years I ran the Guildford branch of SANDS (the Stillbirth & Neo-natal Death charity) supporting children and their families when a baby dies. I offered support on an individual basis and in groups.
I supervised the subsequent SANDS group for several years.
I facilitated a bereavement group for newly bereaved adults at the Phyllis Tuckwell Hospice and worked with a bereaved children's group there.
I work as a bereavement counsellor supporting adults on a 1:1 basis.
Public Speaking
I've visited schools and spoken to children in small groups and in assemblies about death and loss of all kinds. I've spoken about the various supportive roles I've played using my books as springboards for discussion, receiving excellent feedback on the impact this has had not only on school staff but also on the children.
I've spoken at national conferences and at training days for healthcare professionals about my experience as a bereaved parent, outlining what is helpful in order to inspire best practice.
Workshops
I've facilitated workshops for healthcare professionals on communication skills and breaking bad news.
I've participated in GP training schemes as a role-player, providing feedback to participants and insights into grief in both adults and children.
I run Loss & Grief workshops for adults who work with children whether professionals or volunteers.
Writing
In 1990 I wrote and published 'When Your Baby Dies' an information and memory booklet for bereaved parents.
From 1992 – 2005 I worked with the Child Bereavement Trust (now Child Bereavement UK) writing and producing videos, books and short films for bereaved children, their families and the healthcare professionals who care for them.
In 2004 I published 'Riding on a Dangerous Wind' a fictional novel of one woman's journey through breast cancer based on my own personal experience.
In 2013 I co-wrote 'What Does Dead Mean?' – a picture book to help explain death and dying to young children.
In 2014 I wrote and performed in 'The Danger Age' - a short film to warn of the dangers of drowning for young children.
In 2015 I published the 'Seeds of Hope Bereavement & Loss Activity Book'.
In 2019 I wrote and published the picture book 'Pepper, Pooch & Little', a story of lifetimes long and short, designed to be a gentle introduction to life and death for young children.
Charity Sector
Every 3 years from 1991 – 2010 I organised a 'Celebration of Life' remembrance service in Guildford Cathedral for babies and children who had died.
I raised money to refurbish the Children's Chapel at the Cathedral and put in place two Children's Remembrance Books.
In 1995 I founded a national charity (The Seeds of Hope Children's Garden) to raise money to establish the Seeds of Hope Children's Garden in the grounds of Guildford Cathedral and to produce 'The Seeds of Hope Activity Book' to help children and their families manage loss of all kinds using nature.
On a personal note, my first child was stillborn, I have faced my own mortality (twice) and the challenges of many bereavements over several decades. It is this that has inspired my strong desire to make a difference by helping others who are facing loss and grief.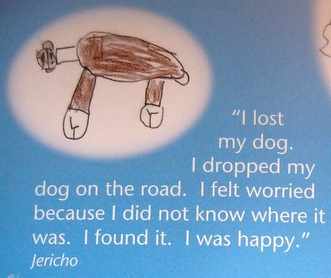 This workshop is designed for anyone who cares for children – parents, school staff, foster carers, social workers, children's home staff, those working with children with disabilities and any healthcare professionals caring for bereaved families.
The Need
Children, like adults, experience loss of many kinds – the death of a parent or family member, the death of a family pet, parents' divorce, adoption, placement in foster care or a childen's home, moving on from these placements, moving house or school, or more ordinary everyday losses that affect us all.
Learning Objectives and Outcomes
· To build overall confidence in dealing with loss and grief of all kinds
· To promote understanding of what might help a child experiencing loss
· To explore understanding of how our personal responses to loss and grief affect what we say and do when supporting others
· To discuss practical ways in which to support children experiencing loss
Outline of Workshop
· Introductions
· A brief outline of the facilitator's experience
· Exploring personal attitudes and responses to loss and grief
· Comments and questions
· BREAK
· Information about what is helpful when a child is grieving
· Consideration of difficult questions children may ask
· Exploration of activities and strategies that may help
· Comments and questions
· Ending